(5 May 2010) Hello Liverpool Blog, it's me, Anis. It's been some time since we last met. While before I reported live from Liverpool in 2008 in one long story, news will be posted on top from now on, like in a decent blog. If there are news, that is ...

A lot has happened in two years. Below is the story of how Sabine and I visited Liverpool for the first time (in English and German). We had an art exhibition of some of our works, and I gave a concert and literary reading in the View Two Gallery. – Today, when you look into a bookshop window in Bold Street, Liverpool, you can see this:

It is the bookshop "News from Nowhere", newsfromnowhere.org.uk. 14 art postcards with Liverpool motifs came into being. You can see all the pictures here on Anis Online. In fact, I continued with more cities, see the Postcards Portal. The photo above was taken by Waltraud, see Blog 1 below. What's more: There now is a charity fundraising cooperation between the organisation KIND, www.kind.org.uk, and me. KIND says:

"Everyday at KIND we see how helping children, young people and their families overcome disadvantage can transform their lives for the better. Which is why, we have been making a difference to their futures for over 30 years. They come to us from a range of different backgrounds, with varying needs. But they are all given a chance to see that they and life do have more to offer and that people care."

KIND is in 19 Back Canning Street and you can see and get the cards there – and A3 posters! If you are a Liverpuddlian, or even Scouser, why not get this presentable set of colourful Liverpool art postcards at KIND and give it as a present to a friend? 4 out of 9,80 pounds are a direct donation for KIND on its 35th anniversary.

The pictures for the series I took during my stay described below. I returned to Liverpool in November 2009 to show the cards around a little. I also saw Felicity. Anne and Nahida from the Liverpool Friends of Palestine came for a visit (see below) and I met some new people.

To show the cards, I went to several shops, hotels, tourist info and what not, it really was an adventure for me, the foreigner. Not without success: FACT took some, and in the restaurant The Quarter in Falkner Street you can see the posters on the walls.

Waltraud was the best, she gave so much support and hosted me so generously. Can you see the yellow door on the picture on the left? That's where I stayed for a week in a whole basement flat. (If you scroll down this page a little you can see the original photo.) One Sunday we had a brunch there with twenty friends and colleagues of Waltraud's and I played the fingerpicking ballad "Goodnight Louise" and the Dylanesque "You Never Woke Up With a Bird Like Me" for them which they seemed to like.

Maybe I will come around again this year. I hope so and would like to see Liverpool in summer one year, not only in winter. It must be a completely different experience. From Mainz it is not so far: Frankfurt, flight to Manchester, Liverpool.

So you have big elections this week. I heard about the liberal star. He made it into Europe's top news. I would not be too optimistic concerning real change in Blighty, though. Obama also seemed so fresh at first, to many of us, and now we see that he has a bit of Bush light about him. No, not Bush's light, there was none, "Bush light" as in Pepsi. Gosh, we could use some change of habit, couldn't we?

PS: In case you have trouble with pronouncing my name: Anis rhymes with peace.
(Liverpool, Dec. 22, 2007) Before yesterday I arrived here with Charles, my Liverpool friend who lives in Germany only 10 minutes away from my flat. I am staying with him and his sister Felicity who invited me to exhibit in the Domino Gallery (see flyer). Of course I also brought my guitar along. It is a lovely city and my first visit here. As I managed to download the necessary software I can work on this blog on the spot.
The first morning – or noon, rather – we had breakfast in the "Soul Cafe" downtown and went shopping afterwards to fill the fridge. I met Dalip in Matta's supermarket. In the evening, Felicity took me to the View Two Gallery where there was an exhibition and a Christmasy evening with song and quizzes. I met Ken, the friendly owner of the place who invited me to a whiskey. Gemma was the host, she made the Christmas quiz. The highlight of the evening was Neil Campbell, he is a guitarist and plays great! Visit his website: www.neilcampbellcollective.com. Afterwards, Felicity, Gemma, Robin and I went on to a bar called "3345" and I wore a red Christmas hat. At 1:30 a.m. Gemma and I shared a taxi back home. I managed to find my bed and fell asleep ...
Below are two photos of the view from Charles' flat. Next to them, on the right, Felicity and Charles trying to find Blootooth on Charles's computer. Felicity made some photos with her mobile phone yesterday evening and I wanted to put them online. Maybe later ... This actually is the very place where I am writing this blog right now. Charles is one of the most generous people I have ever met. He allowed me to use his laptop, his flat, his camera and his toothbrush.

Vorgestern bin ich mit Charles hier angekommen, meinem Freund aus Liverpool, der in Deutschland lebt, zehn Minuten von meiner Wohnung entfernt. Ich bin bei ihm und seiner Schwester Felicity, die mich eingeladen hat, in der Domino Gallery auszustellen (siehe Flyer). Natürlich habe ich auch meine Gitarre mitgenommen. Es ist eine schöne Stadt und ich bin zum ersten Mal hier. Da ich es hinbekommen habe, die notwendige Software herunterzuladen, kann ich von hier aus an diesem Blog arbeiten.
Am ersten Morgen – oder eher Mittag – haben wir im "Soul Cafe" im Stadtzentrum gefrühstückt und sind danach einkaufen gegangen, um den Kühlschrank zu füllen. Ich lernte Dalip in Mattas Supermarkt kennen. Abends nahm Felicity mich mit zur View Two Gallery, wo es eine Ausstellung zu sehen gab und einen weihnachtlichen Abend mit Songs und einer Quizveranstaltung. Ich traf Ken, den freundlichen Besitzer des Ortes, der mir einen Whiskey ausgab. Gemma hat den Abend moderiert und sich das Weihnachtsquiz ausgedacht. Das Highlight des Abends war Neil Campbell, er ist Gitarrist und spielt großartig! Besucht seine Website: www.neilcampbellcollective.com. Anschließend gingen Felicity, Gemma, Robin und ich weiter zu einer Bar, die "3345" heißt und ich trug eine rote Weihnachtsmütze. Um halb zwei teilten Gemma und ich uns ein Taxi nach Hause. Ich habe es hingekriegt, mein Bett zu finden und mich schlafen gelegt ...
Unten sind zwei Fotos, die ich aus Charles' Wohnung gemacht habe. Auf dem Bild rechts daneben versuchen Felicity und Charles, Blootooth auf Charles' Rechner zu finden. Felicity hat gestern Abend nämlich einige Fotos mit ihrem Handy gemacht, die ich auf diese Seite hier stellen wollte. Vielleicht später ... Das ist übrigens genau der Ort, von wo aus ich gerade diesen Blog schreibe. Charles ist einer der großzügigsten Menschen, die mir je begegnet sind. Er hat mir erlaubt, seinen Laptop zu benutzen, seine Wohnung, seine Kamera und seine Zahnbürste.
(Dec. 25, 2007) There was this brilliant party at Tom's and Carl's before yesterday where I met Helen and Mary and Polly and Laurence, Colin, Anna, Christine, Jennifer and others. I am not the party guy, you know, but this time I really enjoyed it. Anna looks like the younger sister of Bjork (and liked it very much that I said it.) We danced and sang harmony together when they played "The Girl from Ipanema". To the left is Colin. He wore a Palestinian flag on his jacket, together with an Irish one. He told me about the identity of Liverpool and that he is doing a documentary film on the identity crisis of the city. Colin speaks one of the local accents and told me all about "Scousers", also that the word is related to the dish "labskaus" which is known in Germany.

(25.12.2007) Es gab eine super Party bei Tom und Carl vorgestern und ich lernte Helen und Mary und Polly und Laurence, Colin, Anna, Christine, Jennifer und andere kennen. Ich bin eigentlich nicht so der Party-Typ, aber diese habe ich wirklich genossen. Anna sieht aus wie die jüngere Schwester von Björk (und mochte es sehr, dass ich es ihr sagte.) Wir tanzen und sangen zusammen, als "The Girl from Ipanema" gespielt wurde. Auf dem Bild oben ist Colin. Er trug eine palästinensische Flagge auf seiner Jacke, zusammen mit einer irischen. Er erzählte mir über Liverpool's Identität und dass er einen Dokumentarfilm über die Identitätskrise Liverpools macht. Colin spricht einen der Akzente, die es hier gibt und erzählte mir alles über die "Scousers" (das sind die Leute aus Liverpool) und über die Verwandtschaft des Wortes mit dem Gericht "Labskaus".
| | |
| --- | --- |
| Here are some more pictures from the party: Polly with Laurence, then host Tom the singer (see Wikipedia), Mary and Helen, me with Polly. Hier sind einige weitere Bilder von der Party: Polly mit Laurence, dann Gastgeber Tom der Sänger (see Wikipedia), Mary und Helen, ich mit Polly. | |
| | | | |
| --- | --- | --- | --- |
| | | (Dec. 27, 2007) We visited Anna and Peter and mother Audrey for dinner and sat around an open fire. The food was delicious and I had a conversation with Audrey, a distinguished English lady who knows Germany well, because her husband was German and even taught at the University of Kiel where I also taught. She saw Mainz, too, in 1951, it was full of rubble then, from the war. Peter showed us some of his photographs – Liverpool and Africa – and I showed him my website as he was sitting on the sofa with his laptop. | Wir besuchten Anna und Peter und Mutter Audrey zum Abendessen und saßen am Kamin. Das Essen war lecker und ich unterhielt mich mit Audrey, einer englischen Lady, die Deutschland gut kennt, weil ihr Mann Deutscher war. Er hatte sogar an der Uni Kiel unterrichtet, wo auch ich unterrichtet habe. Auch in Mainz war sie, 1951, damals lag es in Schutt, vom Krieg. Peter zeigte uns einige seiner Fotos – Liverpool und Afrika – und ich zeigte ihm meine Website, als er mit dem Laptop auf dem Sofa saß. |
(Dec. 29, 2007) The wheather is milder now, but more rain. The air is fresh and tastes of the ocean. Sabine has arrived by now and there are more events ahead of us. I started drawing "Dancing Letters" and tonight there was a party at Christine's, just around the corner. I am happy to have the opportunity to meet people from Liverpool in this informal way. I experienced them as warm-hearted and open.

Das Wetter ist inzwischen milder, aber mit mehr Regen. Die Luft ist frisch und schmeckt nach Ozean. Sabine ist nun auch angekommen und vor uns liegen weitere Unternehmungen. Ich habe angefangen, "Dancing Letters" zu zeichnen und heute Abend waren wir auf Christines Party, gleich um die Ecke. Ich bin glücklich, die Gelegenheit zu haben, Leute aus Liverpool auf diese zwanglose Art kennen lernen zu konnen. Meine Erfahrung ist, dass es warmherzige und offene Menschen sind.
(Dec. 30, 2007) I decided to draw pictures of Liverpool. The architecture is most beautiful and I like the hills and the perspectives of the streets. Below are some photos I took with Charles's Nikon D70 while having a walk to the River Mersey and when Sabine and I went to see Waltraud. Felicity gave me a collection of small books on Liverpool that fit well to these pictures. The series is called "Mersey Minis" and it is a collection of quotations from several centuries, of people who visited and live(d) in Liverpool.

Ich werde Zeichnungen von Liverpool machen. Die Architektur ist hinreißend und ich mag die Hügel und Perspektiven der Straßen. Unten sind einige Fotos, die ich mit Charles' Nikon D70 gemacht habe, als ich zum Fluss Mersey gegangen bin und als Sabine und ich Waltraud besucht haben. Felicity hat mir eine Sammlung von kleinen Büchern über Liverpool geschenkt, die gut zu diesen Bildern passt. Die Serie heißt "Mersey Minis" und ist eine Sammlung von Zitaten aus mehreren Jahrhunderten, von Leuten, die Liverpool besucht haben und die dort lebten und leben.
(Jan. 1, 2008) Happy new year! Charles said I should be brutally frank about Liverpool and also write about the bad things in the city. Well, I suppose it partly is how you approach things. I am really happy to be in England again and never saw Liverpool. So my own behavior will rather be acceptable and people are nice to me. But OK, I will tell you what I think is better in Germany.

Frohes Neues Jahr! Charles hat gesagt, ich soll brutal offen sein, was Liverpool angeht, und auch über die schlechten Seiten der Stadt schreiben. Nun ja, ich denke, es hat damit zu tun, wie man an eine Sache herangeht. Ich bin wirklich glucklich darüber, wieder in England zu sein, und habe Liverpool noch nie gesehen. Mein eigenes Verhalten wird daher annehmbar sein und die Leute sind nett zu mir. Aber gut, ich werde Euch erzählen, was ich an Deutschland besser finde.
(Jan. 2, 2008) But first let me tell you about Waltraud. Sabine and I have visited her in her beautiful "castle". The street above is her street and the following six pictures are taken from out of her house, from the garden and the backstreet. Everything started with Waltraud. We know each other, because I once made a room for her brother Frieder. She introduced me to Charles. She is only here for a short time and will soon resume her Spanish course in Barcelona.

Aber zuerst möchte ich von Waltraud erzahlen. Sabine und ich haben sie in ihrem schönen "Schloss" besucht. Die Straße oben ist ihre Straße und die folgenden sechs Bilder sind aus ihrem Haus heraus aufgenommen worden, auch vom Garten und der Straße dahinter. Mit Waltraud fing alles an. Wir kennen uns, weil ich eine Seite für ihren Bruder Frieder gemacht hatte. Sie brachte mich mit Charles zusammen. Sie ist nur auf einen Sprung hier und fährt zurück zum Spanischkurs nach Barcelona.
The pictures you can see here will be the motifs of my next drawings. I count 16 so far. This will be work :-) So next time I come here I will have new drawings in the bag with local reference. Above there are Waltraud and Sabine in Waltraud's garden. She planted all kinds of things there, for example a fig tree.

Die Bilder, die Ihr hier sehen könnt, sind bereits die Motive meiner nächsten Zeichnungen. Ich zähle 16 bis jetzt. Das wird Arbeit werden :-) Beim nächsten Mal, wenn ich hier bin, werde ich also neue Zeichnungen mit lokalem Bezug mitbringen. Oben sind Waltraud und Sabine in Waltrauds Garten. Sie hat alles Mögliche dort angepflanzt, zum Beispiel einen Feigenbaum.

(Jan. 3, 2008) So what about the less advantageous parts of the city and the country? Well, practicality seems to be a point here. Some things are just so unpractical. Take the lift in Charles's house. The idea is noble: a voice tells you which floor you are on and that the doors are opening or closing, respectively. Only that the designers seem to have gotten mixed up in the middle of installing the device, because this voice is horribly loud, so you think it is for the deaf rather than for the blind. You would not find this in Germany, I think ... "I had seen wealth. I had seen poverty. But never before had I seen the two so jammed together." This is what the Unitarian minister Reverend Richard Acland Armstrong said in 1885, on moving to Liverpool, according to Deborah Mulhearn's Mersey Minis mentioned before. This sentence stuck in my mind. I am not here long enough to further examine this thesis, but it does make me think.

Was also lässt sich über die weniger vorteilhaften Seiten der Stadt und des Landes sagen? Nun, die praktischen Dinge des Lebens scheinen hier eine Rolle zu spielen. Einiges hier ist so unpraktisch. Zum Beispiel der Fahrstuhl in Charles' Haus. Die Idee ist nobel: Eine Stimme sagt dir, auf welcher Etage du bist und dass die Türen gerade auf- beziehungsweise zugehen. Nur dass die Hersteller bei der Installation des Geräts durcheinander gekommen zu sein scheinen, denn diese Stimme ist superlaut, so dass man denkt, es sei für Taube und nicht für Blinde gedacht. Ich glaube, so etwas wird man in Deutschland nicht finden ... "Ich habe Reichtum gesehen. Ich habe Armut gesehen. Aber noch nie zuvor habe ich die beiden so zusammengeklemmt gesehen." Das sagte der unitarische Minister, der Geistliche Richard Acland Armstrong 1885, als er nach Liverpool zog, nach Deborah Mulhearns bereits erwähnten Mersey Minis. Dieser Satz blieb mir im Gedächtnis hängen. Ich bin nicht lange genug hier, um diese These weiter zu untersuchen, aber es gibt mir zu denken.
Yesterday there was a TV documentary on the book "The Diary of a Nobody" from 1888. Wikipedia says: "The diary is that of Mr Charles Pooter, a lower middle-class man, a city clerk, with modest social pretensions. Other characters include his wife Carrie (Caroline), his son Lupin, his friends Mr Cummings and Mr Gowing, and Lupin's unsuitable fiancée, Daisy Mutlar. The humour derives from Pooter's unconscious gaffes and self-importance, as well as the snubs he receives from those he considers socially inferior (i.e. tradesmen). The book has spawned the word 'Pooterism' to describe a tendency to take oneself excessively seriously." The English are so particular. There is a lot I like about them. When I told people on one of the parties that I have an English identity as well, and an Arab one, an American and a French one and when I explained that different cultures just make you highlight one or another aspect in your character, they found that a rather interesting remark.

Gestern gab es eine Fernsehdokumentation über das Buch "The Diary of a Nobody" von 1888. Wikipedia sagt: "Das Tagebuch ist das von Mr. Charles Pooter, einem Mann der unteren Mittelklasse, der gesellschaftlich eher anmaßend erscheint. Zu den weiteren Charakteren gehören seine Frau Carrie (Caroline), sein Sohn Lupin, seine Freunde Mr. Cummings und Mr. Gowing, und Lupins unpassende Verlobte, Daisy Mutlar. Der Humor entsteht durch Pooters unbewusste Ausrutscher und seine Überheblichkeit, außerdem durch die Brüskierungen, die er von denen erfährt, die er als gesellschaftlich minderwertig ansieht (z.B. Händler). Das Buch hat das Wort 'Pooterismus' hervorgebracht, mit dem man die Tendenz beschreibt, sich selbst exzessiv ernst zu nehmen." Die Engländer sind so besonders. Es gibt viel, was ich an ihnen mag. Als ich auf einer der Partys erzählte, dass ich auch eine englische Identität habe und eine arabische, eine amerikanische und eine französische und als ich erklärte, dass unterschiedliche Kulturen einfach bestimmte Aspekte im eigenen Charakter betonen, hielt man das für eine interessante Bemerkung.
Class and individuality. Are those two generating each other? Do they require and entail each other? I love English and British individuality, while being rather irritated by the class-awareness. It shows in the prices of things, in the buildings, in the accents. It is worthwhile to compare Germany and England and France in this respect. But what a task! It's like a super-complicated chess problem. I don't think one can do this analysis in a scientific way. Art seems to be the only rewarding approach.

Klasse und Individualität. Bringen diese beiden einander hervor? Bedingen sie einander? Ich liebe die englische und britische Individualität, während das Klassenbewusstsein mich eher irritiert. Es zeigt sich in den Preisen, in den Gebäuden, in den Sprachakzenten. Es wäre interessant, Deutschland, England und Frankreich in dieser Hinsicht zu vergleichen. Aber was für eine Aufgabe! Es ist wie eine superschwierige Schachaufgabe. Ich glaube nicht, dass man das wissenschaftlich analysieren kann. Kunst scheint mir die einzig lohnende Herangehensweise zu sein.
| | |
| --- | --- |
| Sabines und meine Bilder sind jetzt alle gerahmt und hängen im Green Fish Cafe an den Wänden. Morgen ist die "Private View", die Eröffnung der Ausstellung. Heute wurde ich zum Hauptthema der Ausstellung befragt. Ich sagte, dass sich die "Before their Diaspora"-Sammlung auf Fotos von Palästina vor 1948 bezieht. Der Mann sagte, das war, als "die arabischen Führer die Bevölkerung dazu gezwungen haben, das Land zu verlassen". Ich war verwirrt. Dann erzählte er mir vom Mufti von Jerusalem, der Hitlers Unterstützung gesucht hatte. Er erwähnte natürlich nicht die bei weitem erfolgreichere Zusammenarbeit zwischen Zionisten und Hitler. Ich fragte ihn, ob er das wirklich glaube, und er sagte Ja. Ich fragte ihn, ob er darüber gelesen hat und er sagte: eine Menge. Mehr habe ich ihn nicht gefragt, aber ich muss sagen, dass ich es wirklich unfair finde, dass die Palästinenser für Hitler bezahlen müssen. Jerry, so sein Name, hat die Anne-Frank-Ausstellung organisiert, die Teil des "Holocaust-Gedenkmonats" in Liverpool ist. Wir haben einen Kaffee zusammen getrunken. Ich weiß, dass er einen persönlichen Bezug zu dem Thema hat und respektiere das völlig. Ich spreche lediglich über die Menschenrechte der Palästinenser, die mit dem Genozid an den Juden nichts zu tun hatten. Danach sah ich "The Beatles Story", ein Museum, das Jerry im "Albert's Dock" führt und das er teilweise mit eigenen Mitteln aufgebaut hat. Es ist ein Museum, das mit Liebe und Hingabe gemacht wurde. Die Beatles stehen für Menschlichkeit, Kreativität und Liebe. Und Freiheit. | Sabine's and my pictures are all framed now and on the walls in the Green Fish Cafe. Tomorrow will be the Private View. Today I was asked about the main theme of the exhibition. I said the "Before their Diaspora" collection refers to photos from Palestine before 1948. The man said this was when "the Arab leaders forced the population to leave the country". I was stunned. Then he told me about the Mufti of Jerusalem who sought Hitler's support. He certainly did not mention the far more successful collaboration of Zionists with Hitler. I asked him if he really believes this and he said yes. I asked him if he has read about these things and he said: a lot. I did not ask him more, but I must say I find it really unfair that the Palestinians have to pay for Hitler. Jerry, so his name, runs the Anne Frank exhibition which is part of the "Holocaust Memorial Month" in Liverpool. We had a coffee together. I know he has a personal reference to the matter and accept that fully. I am only talking about the human rights of the Palestinians who have nothing to do with the genocide of the Jews. Then I saw "The Beatles Story", a museum, which Jerry runs in Albert's Dock and which he built partly with his own means. It is a museum made with much love and devotion. The Beatles stand for humanity, creativity and love. And freedom. |
(Jan. 4, 2008) The diary of Anne Frank I read when I was about 14 or 15. It is an age when personal books have a big impact on your soul. The diary has always been part of my life, you do not forget a book like that. What makes me feel uneasy is the fact that "Holocaust Memorial" things, according to my experience, do not only remind of the genocide. They often imply a solidarity with the Zionist state as a consequence of memory. You would expect that a Holocaust memorial entails an effort to think about the Human Rights which were newly formulated exactly because of the genocide. My experiences are different. In the German public the concepts "Holocaust Memorial" and "Israel solidarity" are very similar political items. It is like a competition between Human Rights and Jewish Rights. My opinion is that "Jewish Rights" would imply a special treatment ("Sonderbehandlung") and this massively contradicts the equality of the peoples. I wonder what Anne Frank would have to say to all this. I know some Holocaust survivors like Hedy Epstein and Hajo Meyer and they are strictly against what Zionism does. And the great Erich Fried.

Das Tagebuch der Anne Frank habe ich gelesen, als ich 14 oder 15 war. Das ist ein Alter, in dem persönliche Bücher einen großen Eindruck auf deine Seele machen. Das Tagebuch war immer Teil meines Lebens, man vergisst ein Buch wie dieses nicht. Was mich unangenehm berührt ist, dass "Holocaust Gedächtnis"-Dinge meiner Erfahrung nach nicht nur an den Genozid erinnern. Oft beinhalten sie eine Solidarität mit dem zionistischen Staat als Konsequenz aus der Erinnerung. Man würde erwarten, dass ein Gedenken an den Holocaust eine Anstrengung in sich trägt, über die Menschenrechte nachzudenken, die ja wegen des Genozids überhaupt neu formuliert wurden. Aber meine Erfahrungen sind andere. In der deutschen Öffentlichkeit bezeichnen die Begriffe "Holocaustgedenken" und "Israelsolidarität" sehr ähnliche politische Sachen. Es ist wie ein Wettbewerb zwischen Menschenrechten und Judenrechten. Meiner Ansicht nach impliziert "Judenrechte" eine Sonderbehandlung und das steht in krassem Widerspruch zur Gleichberechtigung der Völker/Gesellschaften. Ich frage mich, was Anne Frank zu all dem sagen würde. Ich kenne einige Holocaust-Überlebende wie Hedy Epstein und Hajo Meyer und die sind strikt gegen das, was der Zionismus tut. Der große Erich Fried ja auch.
| | |
| --- | --- |
| | |
Above the gate to Liverpool's Chinatown. The Chinese community here is the oldest Chinese community in England. Liverpool has a great variety of origins. Many of Irish descent, a lot of Arabs and others. I talked to Yemenis and people from Tunis and Palestine in Arabic here. And next to it another gate. Princes Park Gate. This is about where Charles lives when he is not in Mainz. I sincerely hope that 2008 will be a successful year for him, he deserves it.

Oben das Tor zu Liverpools Chinatown. Die chinesische Gemeinschaft hier ist die älteste chinesische Gemeinschaft in England. Liverpool hat eine große Vielfalt an Ursprüngen. Viele sind irischer Abstammung, auch viele Araber und andere. Ich habe hier mit Jemeniten, Tunesiern und Palästinensern auf Arabisch gesprochen. Und daneben noch ein Tor. Princes Park Gate. Hier um die Ecke wohnt Charles, wenn er nicht gerade in Mainz ist. Ich hoffe sehr, dass 2008 ein erfolgreiches Jahr für ihn wird, er hat es verdient.
(Jan. 5, 2008) Here are some photos of the Private View yesterday night. Above you can see me with Sabine preparing some glasses. Although it was not the best time for an exhibition – right at the start of the year – I sold three pictures: "Courtyard", "Tuareg" and "Dancing Letters". I never had thought about selling my pictures before. But now I got into the swing and I will continue selling ... The "Before Their Diaspora" collection, read about the background and see all seven pictures here.

Hier sind einige Fotos der Eröffnung der Ausstellung. Oben seht Ihr mich mit Sabine, während wir einige Gläser vorbereiten. Obwohl es nicht die beste Zeit für eine Ausstellung war – direkt am Anfang des Jahres – habe ich drei Bilder verkauft: "Courtyard", "Tuareg" und "Dancing Letters". Ich hatte nie darüber nachgedacht, meine Bilder zu verkaufen. Aber jetzt habe ich mich daran gewöhnt und werde weiter verkaufen ... Die "Before Their Diaspora"-Sammlung. Hintergrundinfos und alle sieben Bilder hier.
On the right in the middle you see Felicity Wren, who organised the exhibition, in her Domino Gallery. She helped us getting the frames and she drove us around and showed us places. Without her I would not have achieved all this. So I am also happy for her that we sold something. I also hope that Sabine gets discovered, because she really is the better painter. Below some of her exhibited pictures. Below on the right is the "Dancing Letters" picture. What I especially like is the fact that I made it here in Liverpool and sold it straight away. I took only two colors with me ... The other pictures are still for sale until the end of January.

Rechts in der Mitte seht Ihr Felicity Wren, die die Ausstellung organisiert hat, in ihrer Domino Gallery. Sie hat uns geholfen, die Rahmen zu besorgen und hat uns herumgefahren und uns interessante Menschen und Orte gezeigt. Ohne sie hätte ich all dies nicht erreichen können. Daher freue ich mich auch für sie darüber, dass wir etwas verkauft haben. Außerdem hoffe ich, dass Sabine entdeckt wird, denn sie ist wirklich die bessere Malerin. Unten einige ihrer ausgestellten Bilder. Unten rechts ist das "Dancing Letters"-Bild. Was mir besonders gefällt, ist die Tatsache, dass ich es hier in Liverpool gemacht und es sofort verkauft habe. Ich habe nur zwei Farben mitgenommen ... Bis ende Januar kann man die Bilder noch in Liverpool kaufen.
The Private View was yesterday. Today I played some of my songs in Liverpool! And not only that, it was only some meters away from the legendary "Cavern Club" where the Beatles started. What a great feeling. People liked the songs, too.

Die Eröffnung der Ausstellung war gestern. Heute habe ich einige meiner Songs in Liverpool gespielt! Und nicht nur das, es war nur ein paar Meter vom legendären "Cavern Club" entfernt, wo die Beatles angefangen haben. Ein großartiges Gefühl. Die Leute mochten die Songs auch.

This friendly gentleman, John Airs, from the Liverpool Friends of Palestine said that he was pleased to meet a true "renaissance man", referring to me. I heard that phrase several times here, it alludes to the diverse genres I do, singing, writing, drawing, public work.

Dieser freundliche Herr, John Airs, von den "Liverpool Friends of Palestine" meinte, dass er sehr erfreut sei, einen echten "Renaissance-Mann" kennen gelernt zu haben, womit er mich meinte. Ich habe diese Formulierung einige Male hier gehört, sie spielt auf die unterschiedlichen Genres an, die ich verwende, Singen, Schreiben, Zeichnen, Öffentlichkeitsarbeit.


It was, in fact, the first time I performed a reading in English. It worked. I read some of my poetry and satires, also gave a statement on Palestine. I said that the issue is not at all about negotiations, but about the question whether one accepts human rights and international law or not. I explained what "inalienable rights" means. The event took place in the View Two Gallery and was organised by Anne Candlin and the Liverpool Friends of Palestine (Arts for Palestine section). We had a projector there, too, thanks Nahida, and I made a short guided tour through Anis Online.

Es war das erste Mal überhaupt, dass ich eine solche Lesung auf Englisch gemacht habe. Hat funktioniert. Ich las einige Gedichte und Satiren, habe auch ein Statement zu Palästina abgegeben. Ich sagte, dass es keineswegs um Verhandlungen geht, sondern um die Frage, ob man die Menschenrechte und das internationale Recht akzeptiert oder nicht. Dabei habe ich erklärt, was "unveräußerliche Rechte" bedeutet. Die Veranstaltung fand statt in der View Two Gallery und wurde von Anne Candlin organisiert und den Liverpool Friends of Palestine/Arts for Palestine. Dank Nahida hatten wir einen Projektor, mit dem ich eine kurze Führung durch Anis Online machen konnte.
The photo on the right shows Johanna. She just came over from Germany to spend some months in Liverpool. She is 20 and living here for a while. It is the nicest picture of the afternoon, Sabine took it, like the other photos of the event.

Das Foto rechts zeigt Johanna. Sie ist gerade aus Deutschland angekommen, um einige Monate in Liverpool zu verbringen. Sie ist 20 und lebt hier für eine Weile. Es ist das netteste Foto des Nachmittags. Sabine hat es gemacht, wie auch die anderen Bilder der Veranstaltung.
(Jan. 06, 2008) So this was it! In a few hours I will be back in Germany. Sabine has already gone. I did not write about the party at Christine's where we met Hazel and John, and about several other things. All in all it was a great stay and things went quite succesfully. I am looking forward to returning. I just saw that there were 145 people on the Liverpool Blog this week (Sunday not counted).

Das war's! In ein paar Stunden geht es zurück nach Deutschland. Sabine ist schon weg. Über Christines Party habe ich nicht geschrieben, wo wir Hazel und John kennen gelernt haben, und über einige andere Sachen. Alles in allem war es ein großartiger Aufenthalt und ein Erfolg. Ich freue mich darauf, wieder herzukommen. Gerade sah ich, dass 145 Leute in dieser Woche auf dem Liverpool Blog waren (Sonntag nicht inbegriffen.)



Liverpool Exhibition "Before their Diaspora" and other works
by Anis Hamadeh and by Sabine Yacoub, January 2008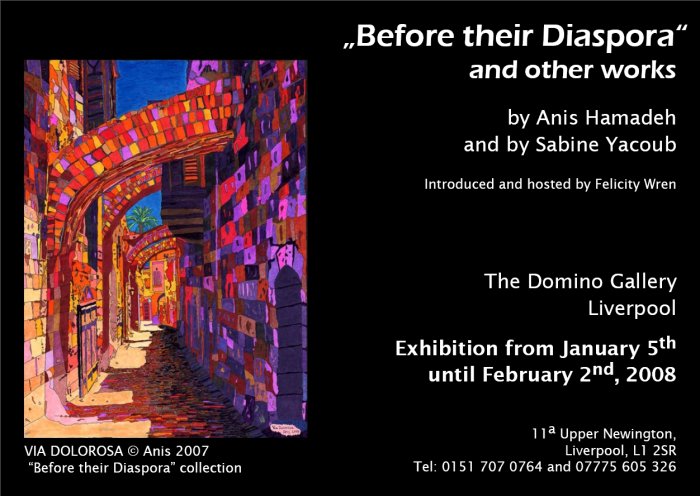 Links:
- Metro Interview on "Before their Diaspora"
- "Before their Diaspora" Flyer (above) as PDF
- "Before their Diaspora". Seven Palestine Drawings
- Anis Hamadeh: Work Index (Drawings)

---
:: Flyer Text (View as PDF) ::

"Before their Diaspora" and other works by Anis Hamadeh and by Sabine Yacoub
Introduced and hosted by Felicity Wren. The Domino Gallery, Liverpool

Exhibition from January 5th until February 2nd, 2008. 11a Upper Newington, Liverpool, L1 2SR
Opening Times: Mon-Sat, 11 am - 5 pm

The "Before their Diaspora" collection was created especially for the Liverpool exhibition. The seven drawings trace back to historic photos from the book "Before their Diaspora. A Photographic History of the Palestinians 1876 - 1948" by the renowned Palestinian scholar Walid Khalidi (Institute for Palestine Studies, Washington D.C. 1984).

Samples of ca. 30 exhibits on this flyer. Anis uses Copic Ciao markers and DIN A3/A4 sizes, Sabine uses acrylic and more in different sizes. Available for purchase, some also as reproductions, please ask Felicity Wren in the Domino Gallery.

Anis Hamadeh (*1966), writer, musician, journalist, also draws: www.anis-online.de
Sabine Yacoub (*1974), biologist and painter: www.sabine-yacoub.de

Sabine and Anis share a flat in Mainz, Germany. Contact: info (@) anis-online.de